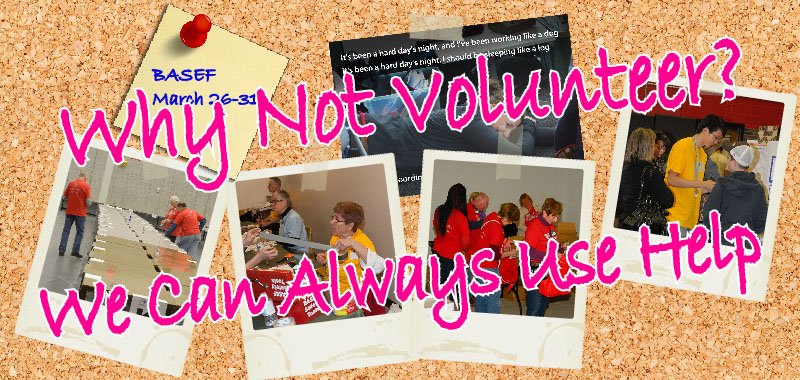 Come Volunteer at Our 60th Fair
Ever wonder what it's like behind the scenes of an event? What it actually takes to host an event the size of BASEF? Are you sad that you weren't able to grow/invent/create/blow-up something cool for the science fair this year? (maybe not blow-up … ) Looking for something different to add to your list of achievements? Or just have a free weekend and you don't know what to do with yourself? Or a parent of a participant and you have to be here anyways?
Well, look no further!
BASEF has the answer for you! You can come and join us by volunteering as we host our 60th Annual Fair! Each year, BASEF needs about 80 General Volunteers to help make the fair and all the activities going on a huge success! This is only 1/4 of the total volunteers that we need to run the fair. General volunteers have various jobs that they rotate through, while they are on shift. You could be helping physically setting-up in the various locations around Mohawk or interacting with the extraordinary students walking through with their blood, sweat, and tears of a project, who are extremely eager to tell you all about their findings! Some cool bonuses about volunteering, you get to meet like-minded individuals of all ages (networking), we feed you (some days more than just pizza), you get a cool t-shirt (we design new shirts every year, so collect them!) and most importantly, you are helping to create an environment where youth are able to showcase their innovations and ideas that can help propel them into different opportunities to help make change in our society for the future. Science backgrounds are not required, just a positive outlook to have fun and influence young minds! Age is not an obstacle and time is of the essence (you can volunteer to what suits your schedule). Help us create the fair that young minds remember for years to come!