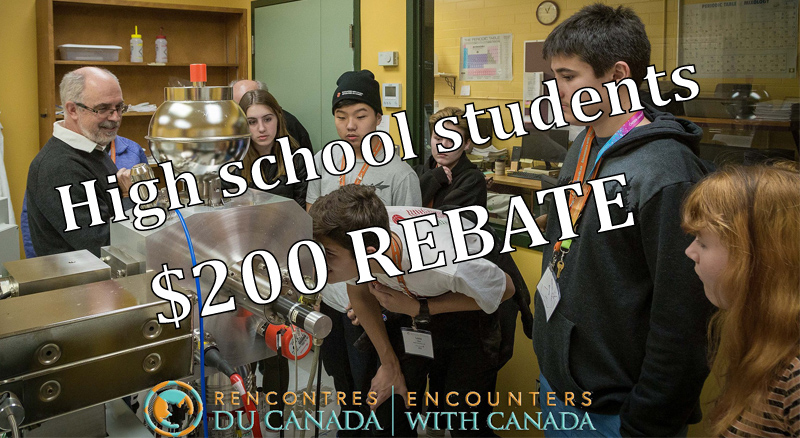 High School Students: Encounters With Canada Rebate Offer
Limited time offer. Register before December 20, 2019
High school students. Looking for an opportunity to develop your leadership skills, explore career options, and meet peers from across the country! Encounters with Canada allows you to spend one week in Ottawa exploring potential careers in the field of your choice. Each week follows a theme, including medicine, sciences, art and culture, business and entrepreneurship, sports, or law and justice. There's something for everyone, no matter your interests! Find out more at
https://www.ewc-rdc.ca/pub/en
Encounters With Canada provides a unique opportunity for Canadian teens to:
meet other young people from across the country,
spend an adventure-filled week in your nation's capital,
check out future career options, and
discover more about your country.
To date, over 115,000 youth have benefited from the Encounters With Canada program. Now it's your turn!
Limited Time Offer
Encounters is offering a special rebate of $200 off any theme week for Ontario participants that register before December 20, 2019! There is a limited number available, so register now to claim this offer!
Costs
Program costs are $750* for the week but act now to save $200. Registration fee includes:
Travel to/from Ottawa from anywhere in Canada
Program Activities and supplies including tours, visits, modules, theme week activities and more
1 Week Stay at the Terry Fox Canadian Youth Centre in Ottawa
*Attendees are responsible for pocket money. More information at https://www.ewc-rdc.ca/pub/en/costs
Background
For 37 years Encounters With Canada, a program of Historica Canada (https://www.historicacanada.ca/), has delivered a rich, bilingual, program. To date, more than 115,000 youth have participated.
The program, endorsed by the Ministry of Education in every province and territory, provides career-oriented themes covering many topics. Check them out at https://www.ewc-rdc.ca/pub/en/theme_week.
Website: https://www.ewc-rdc.ca/
Instagram: @encounterswithcanada
Facebook: @EncounterswithCanada.RencontresduCanada
Twitter: @EWC_RDC