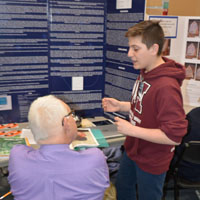 Thank You to this year's Judges
Thank you to all Merit and Special Awards Judges, BASEF 2019 was extremely successful due to your participation. See you next year!
This year 228 Merit Judges and 101 Special Awards Judges created an incredible experience for 466 students. We couldn't have done this without you.
We get numerous comments each year from students and parents about the wonderful influence that our judges have on participants, to improve their projects, to give them the confidence to continue their scientific inquiries, to explore their world and make our world a better place. Thanks for being a positive influence on our BASEF participants!
The Judge in Chief and Special Awards Coordinator would like to thank all of you for helping make this, our 59th year, a success.