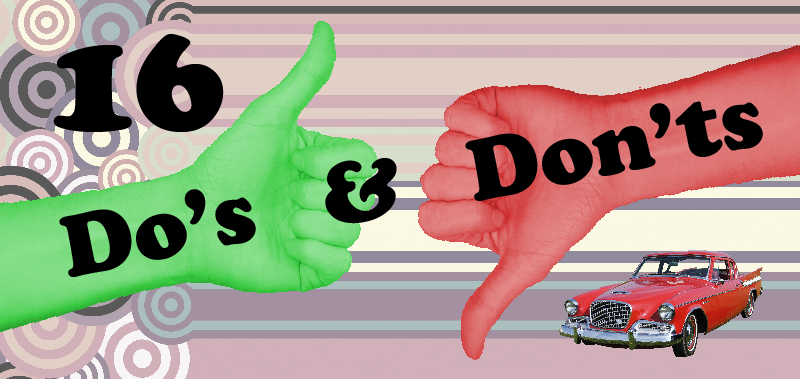 16 Do's and Don'ts
In preparation for the upcoming 60th BASEF, we (the Student Advisors) have created a list of 16 do's and don'ts for our fellow scientists based on our past experiences in judging. We hope that you find our advice helpful, and wish you all the best of luck at the 2020 Fair!
DO… dress neatly.
It shows respect for the judges who are volunteering their time. It also shows confidence and makes you seem more professional. Dressing nicely, or even in the free BASEF T-Shirt provided at setup, will help you to be taken seriously.
DON'T… leave your board during judging.
You never know when you may get an unexpected special award judge!
DO… prepare a presentation.
This will ensure that you don't forget to talk about any important parts of your project. It also helps with your confidence; you won't be as nervous and you will be less likely to make a mistake. We recommend writing out bullet points to discuss!
DON'T… argue with or disrespect the judges— they are volunteering their time for you!
It won't help your score, either.
DO… consider the organization and design aspects of your poster.
Displays should be interesting and eye-catching, but easy to follow and readable. Making your poster look good will help show the judges how much effort you put into your project.
DON'T… memorize your presentation word for word.
You will likely end up speaking with a lack of expression, and appear unnatural. It could also take away from your content, and trip you up when you're interrupted by a question.
DO… Identify the issues you had with your project and how you overcame them.
Mistakes often teach you as much as successes. The judges will be impressed that you managed to identify and overcome your errors
DON'T… miss the awards ceremony!
There are a lot of amazing award opportunities, and it's important to support your fellow students.
DO… bring samples or a demonstration of your work, if possible.
It's great to be able to show your work in person and hands-on, both for judging and at public viewing! Just make sure that what you want to display clears the BASEF safety requirements.
You can find the guidelines here: ( https://www.basef.ca/project-display-information/ )
DON'T… dismiss the judges' feedback.
They know what they're talking about. Their feedback could help you if you decide to do another science fair project in the future, or in any case where you may have to present or write a report.
DO… be enthusiastic. Show the judges that you are interested in your project!
Hopefully, you are interested— we'll assume you are since you've made it this far!
DON'T… be afraid to ask for clarification if you don't understand a judge's question.
It's always best to show that you're engaged in the conversation and want to answer to the best of your ability, rather than giving a lackluster response.
DO… talk to other students at the fair when you have a chance.
BASEF is a great place to meet other like-minded students your age and discuss your projects! Try to walk around a bit at lunch or during public viewing.
DON'T… be nervous!
You know your project better than anyone else, and it's best to be relaxed when speaking with judges.

DO… offer your chair to judges, especially if you're going to be talking for a long time.
Offering your chair is a polite thing to do, and shows courtesy toward the judges.
DON'T… leave anything out of your lab journal!
Include every page with notes on it, every idea scribbled down, that you can find! They all show your process and how hard you worked, and are valuable for judges to see
---
There you have it! We hope these tips relieve some of the stress leading up to BASEF, or, at least, cause… helpful, guiding stress? See you at the Fair!