The Bay Area Science and Engineering Fair is a competition for all grade seven through twelve students from Hamilton, Halton Region, Haldimand County, Norfolk County, County of Brant, and Six Nations. Students may attend any public, separate, or private school, or be homeschooled. Participants must be under the age of 21 before June of the BASEF year.
There is no entry fee but over $200,000 in cash, trips, and scholarships are awarded every year.
When is the Fair?
The fair takes place near the end of March. The dates are chosen based on the dates of the national and international fairs. A typical schedule would be:
Online registration in February closing the first week of March;
Fair takes place last or second last week of March;
National and international fairs take place in mid-May.
What happens at the fair?
A fair consists of 4 days of activities:
Day 1: Registration, project setup, and safety checks,
Day 2: Judging,
Day 3: Public viewing followed by project tear down,
Day 4: Awards ceremony.
See the science fair schedule here.
Where do I start?
Check out our Getting Started section for information on how to create a successful project and other resources.
Make sure you Register for BASEF on time – Check the Event Calendar for the start of Online Project Registration.
How can I help?
BASEF is a registered charity and relies entirely on volunteers and sponsors. We are always looking for volunteers and sponsors to help us make the science fair even better for students, parents and teachers.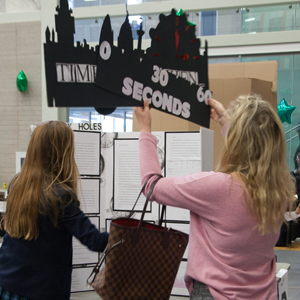 Our Mission
BASEF inspires young people to change the world through science, technology, engineering and mathematics.
BASEF provides opportunities for students to showcase their innovations and discoveries.
Our Goals
To conduct an annual fair for the exhibition and competition of STEM projects;
To award prizes and to send competitors to the Canada-Wide Science Fair and the International Science and Engineering Fair;
To co-ordinate STEM activities as a part of the fair experience;
To promote awareness of careers in science, engineering and technology.
Constitution
View the BASEF Constitution (PDF).
Privacy Policy
View the Privacy Policy (PDF).