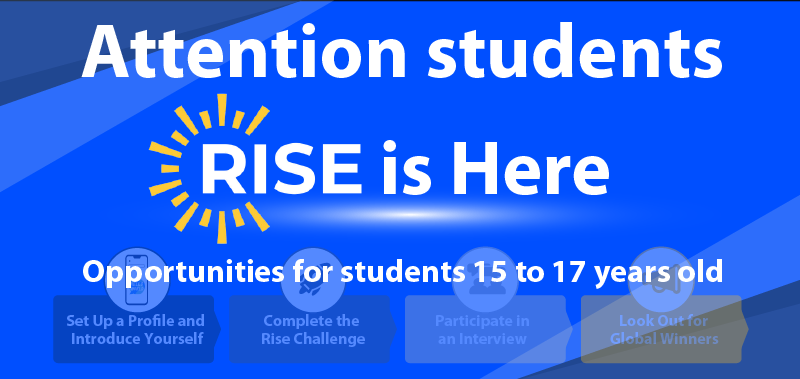 Attention students! Rise is Here.
Attention students!
Are you between 15 and 17 years old? Then why not apply to Rise.
Do you know an exceptional 15-17 year old with lots of talents and potential? Then nominate them for Rise.
You could be passionate about art, science, community organizing—or any other discipline. Rise's mission is to find extraordinary young people and support them for life as they use their talents to build a better world. The program looks for brilliance, integrity, empathy, and perseverance—not just test scores or grades. Everyone who applies will join the Rise global community and have access to free online courses and opportunities around the world.
In July 2021, Rise will announce 100 Global Winners and provide them with access to a lifetime of benefits as they work to serve others.
So what is Rise?
Rise is a partnership initiative of Schmidt Futures and the Rhodes Trust building a network of exceptional young people committed to helping others throughout their lives.
Exceptional talent drives the pace and scale of global progress. However, the identification and support of that talent is often ad hoc and fragmented across countries, educational institutions, and industries. As a result, some of the world's most talented people never realise their potential for global impact. Instead, they go undiscovered, are inefficiently matched to development opportunities, or are limited in their opportunity to work in the service of others.
Rise encourages a lifetime of service and learning by providing support to help these leaders serve others for decades to come. Support may include:
An invitation to attend a residential fellowship before their final year of high school to provide support as they consider how to serve others, how to become leaders, and how to transition to higher education and careers,
Need-based financial support for university and internships,
Mentorship and other assistance tailored to their specific needs and interests,
Career services as part of the Rise network, and
Access to funding to scale up their social impact throughout their careers.
The Application Process
1 Set Up a Profile and Introduce Yourself
Deadline: January 29, 2021
Download the Hello World – Rise app, then follow the steps using videos and other tools to tell us about yourself, your background, and your interests. #
2 Complete the Rise Challenge
Deadline: April 1, 2021
Propose and develop a capstone project for the Rise Challenge that demonstrates your interests, abilities, and drive. This could be art, research, a product—whatever you care about most!
3 Participate in an Interview
May – July 2021
Up to 500 finalists will participate in an innovative interview format to demonstrate their motivations, problem-solving abilities, and teamwork skills.
4 Look Out for Global Winners
July 2021: 100 Rise Global Winners will be announced
# Can't download the app?

Can't download the app? Apply with WhatsApp!
If you do not have an iPhone or Android or have limited access to data, apply with WhatsApp. Get started at www.risefortheworld.org/whatsapp.


Don't have a phone? Apply with a Paper Application.
Rise is working with partners in low-connectivity areas to distribute paper applications. Contact us at support@risefortheworld.org.
---
The Rhodes Trust, founded in 1903, is based at the University of Oxford. The trust brings together and develops exceptional people from all over the world, and in all fields of study, who are impatient with the way things are and have the courage to act. This is done through the world's pre-eminent graduate fellowship, the Rhodes Scholarship. The second century of the trust expands the Rhodes Scholarships globally and broadens the impact through partnerships that develop exceptional leaders across different life stages and areas of focus.
https://www.rhodeshouse.ox.ac.uk/
Schmidt Futures is a philanthropic initiative, founded by Eric and Wendy Schmidt, that finds exceptional people and helps them do more for others together. We knit talent into networks, bet on the most promising ideas through diverse forms of competition and support, and equip people to scale through partners and modern tools.
To realize this vision, Schmidt Futures uses a broad set of tools — including gifts, grants, investments, and startup activity — for charitable, educational, and commercial efforts with a public purpose.
The initiative brings together various charitable and non-charitable entities to improve the potential impact by making diverse types of capital available to supported efforts.
---
Links
Rise website: https://www.risefortheworld.org/
Rise application via WhatsApp: www.risefortheworld.org/whatsapp
Rise email support: support@risefortheworld.org
Rhodes Trust website: https://www.rhodeshouse.ox.ac.uk/
Schmidt Futures website: https://schmidtfutures.com/