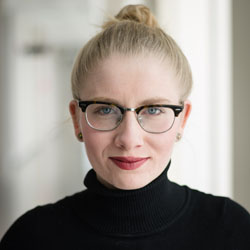 Catharine Bowman
CWSF: 2011, 2012, 2013 IISEF: 2014, 2015

CWSF: 2011, 2012, 2013 IISEF: 2014, 2015
Catharine Bowman is a medical researcher, public speaker, and healthcare advocate with a profound interest in utilizing innovative thinking to approach societal healthcare challenges. In 2008, Catharine's mother was diagnosed with stage-three metastatic cancer. Following two major surgeries, Catharine's mother developed lymphedema, an incurable and lifelong disease affecting the lymphatic system.  At the age of 14, Catharine set out to create the first pharmacological treatment for lymphedema.
Currently, Catharine is a well-established lymphatic researcher, implementing novel research techniques and methods to further explore her original pharmacological therapeutic. Catharine has developed an extensive research background, ranging from basic lymphatic physiology, lymphedema-focussed pharmacology, and more recently, psychosocial oncology.
In 2015, Catharine initiated a speaking campaign called "Let's Talk Lymphedema", a talk series focused upon education, awareness, and advocacy for under-recognized medical conditions that pose a threat to the health of global populations. Since then, Catharine has had the opportunity to speak across North America and the UK about lymphedema and related health issues. Catharine is a Board Director for the Alberta Lymphedema Association, founder of Alberta's "Lymphedema Nights", and an active advocate at the provincial government level to improve lymphedema care and cancer rehabilitation programs within Ontario and Alberta.
While residing in Calgary Catharine continues to mentor BASEF projects in preparation for IISEF and CWSF competitions.
Competition
BASEF: 2011, 2012, 2013, 2014, 2015
CWSF: 2011, 2012, 2013
IISEF: 2014, 2015
Select Science Fair Awards
BASEF:
2nd Best-in-Fair, Best Junior Project – 2011
Best-in-Fair, Best Senior Project – 2014, 2015
CWSF:
Silver Medal – 2012
Gold Medal, Challenge Award: Discovery Category – 2013
IISEF:
4th Place Grand Award, Biomedical and Health Sciences – 2015