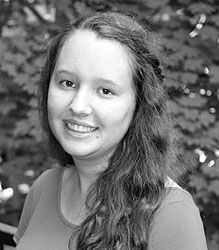 Since primary school, 'science fair' had always fascinated me. When I made it to BASEF in grade 7, I was so excited. It was incredible to be with hundreds of students and see all the brainpower on display from kids just like me. Winning the opportunity to attend the 2014 Canada Wide Science Fair (CWSF) with Team BASEF was the experience of a lifetime. I had the most amazing mentors, and the team members have become lifelong friends. I was incredibly lucky to win a gold at CWSF and the Environment Challenge Award that year. In high school in 2016, I entered BASEF again and that year, much to my surprise, I won the top prize – ArcelorMittal Dofasco Pinnacle Award for Best-in-Fair! A second trip to CWSF, where I won a gold medal and the Environment Challenge award again.
Now as I finish high school and go to university, I felt it was important for me to give back to those who have supported me and my environmental work, and BASEF is at the top of that list. I am excited to be offering my new BASEF Special Award. My hope is that it will ignite a spark in students to consider doing an environmental science fair project that specifically looks at trying to solve an environmental issue.
I look forward to seeing and judging these inspiring environmental projects.
What I hadn't realized was how being a part of BASEF and experiencing all the fantastic opportunities offered through BASEF would change my life. – Isabella O'Brien