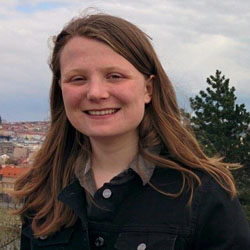 Sarah entered BASEF in grade 8 at Dalewood Public School in Hamilton with her project about twins. Sarah has a twin brother and also has younger twin brothers. She won a trip to the Canada Wide Science Fair that year. In subsequent years, she entered BASEF several more times during high school at Westdale Secondary School. She won trips to the International Science and Engineering Fair (ISEF) and also won a $10,000 Google Prize at ISEF.
Sarah graduated in 2018 from Neuroscience at Cambridge (England) on a full scholarship. Also in 2018, Sarah had a position in the European Space Agency's Human Physiology in Space program.
Currently, Sarah is studying medicine in England and is in year 2 of 4 in Oxford's post grad medicine program (early 2019). She was surprised but thrilled to be the gold medalist last year. She has now finished the classroom stage of her studies and is in hospital for the clinical stage.
She is most interested in Neurology and hopes for a career with both clinical and research elements. She is also interested in Space medicine and what it can teach us about aging. She is assisting with human and mice sleep research.
She enjoys playing varsity basketball and the trombone for stage productions. She hopes for a Pediatrics rotation in Morocco in French this Fall.