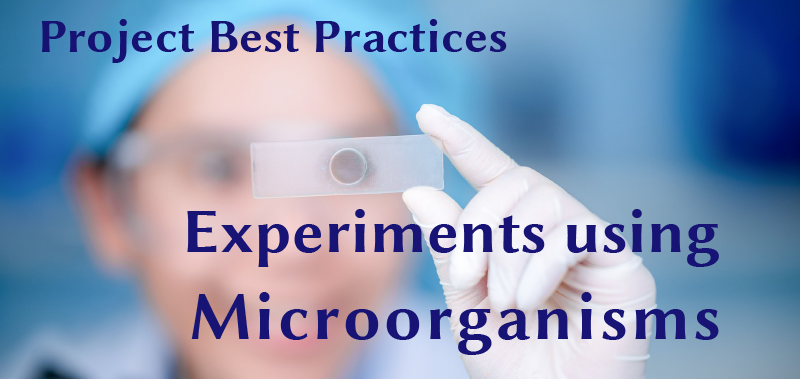 Best Practices: Microorganisms
Thinking of experimenting with Microorganisms? Then read on.
Risk Awareness
Microorganisms are bacteria and fungi such as molds and yeasts. Before starting your project you must become familiar with the risks involved in using your chosen organism. For example, bacteria can cause diseases and yeasts can be involved in serious allergic reactions. Because of these potential health risks, microorganisms are not allowed at the fair. Not an issue for this year's fair but something to remember if you plan on attending future fairs. Note: Pictures of cultures are substituted for the actual material at physical fairs.
Personal Safety
Before starting your project you should also research proper safety procedures related to your work. This includes both the organisms you plan to use as well as any reagents or mediums you plan on using. And don't forget the disposal procedures. Any protocols you develop should also take into account the possibility of contamination. Exposure to air, a sneeze from your sibling, or a lick from your pet will all introduce unwanted microorganisms. These contaminated samples can mess up your results or even have dangerous safety implications.
And while we're on the topic of Risk Awareness and Personal safety – document these decisions in your lab book.
Next Steps
First, read Considerations for Science Fair Experiments Using Microorganisms. It contains introductory material on these topics and a quick reference list of safety tips.
Next, review the BASEF, Youth Science Canada , and Regeneron International Science and Engineering Fair (RISEF) project requirements. These are listed at the end of the post.
Finally, research safety precautions related to your area of research. There are many resources available online, through libraries, and from teachers and other professionals.
If you have any questions about your project contact the Registrar or the Judge-In-Chief.
See you at the fair
---
Links

BASEF
Considerations for Science Fair Experiments Using Microorganisms
Youth Science Canada (YSC)
Regeneron International Science and Engineering Fair (RISEF)