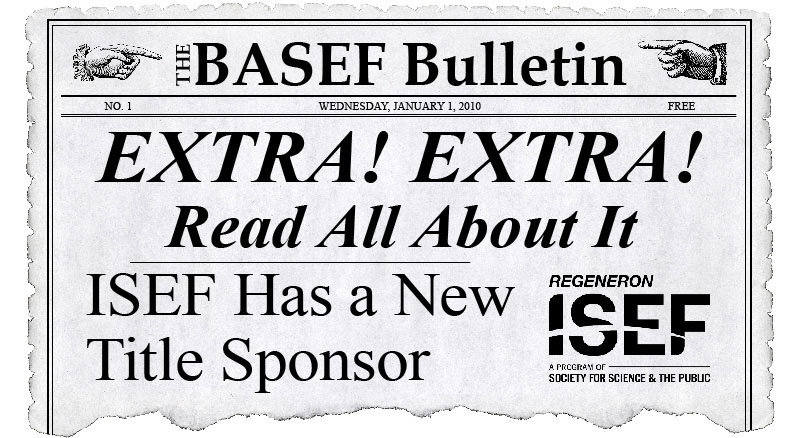 ISEF Has A New Title Sponsor
EXTRA! EXTRA! Read All About It
By now you may have heard that the International Science and Engineering Fair (ISEF) has a new title sponsor — Regeneron Pharmaceuticals. But rest assured, it's still the same awesome fair and BASEF is still a part of it.
Some backstory.
In 1942, Science Service (now called Society for Science & the Public) launched the Science Talent Search, the nation's oldest and most highly regarded science contest for high school seniors, first in partnership with Westinghouse, then with Intel from 1998 to 2019. But times change and as students' interests change so do their projects. As the project mix changed, Intel reassessed their commitment and decided to move their support to other organizations more aligned with their core business. This was not a quick decision but a planned move with a transition plan spanning the last few years. So the Society for Science & the Public began a search for a new title sponsor and Regeneron stepped up.
The future
So what should you expect to see over the next few months? For starters, ISEF will continue to be the premier international fair and an awesome experience. And of course, BASEF will continue its affiliation and send our top projects to ISEF. A new title sponsor is also an ideal time to refresh marketing materials. So starting now you will see a new, more modern, ISEF logo.
BASEF history
BASEF, or as it was called back then, The Hamilton and District Science fair, was quick to join national and international fairs. For our first fair, in 1961, we sent 11 top winners to the Ontario Science Fair – the Canada Wide Science Fair (CWSF) didn't exist yet. By the second fair, there were plans to send students to the international fair. So on May 2, 1962, Tom Breckles and David Isbister, along with Spectator reporter Bill Hanrahan were on their way to the Science Fair International in Seattle Washington. They competed against 387 students from 208 affiliated fairs and David brought back an award. There's more to this story so in a future post we'll chronicle late flights, lost projects, phones left off the hook (your grandparents can explain it to you), and other trials and tribulations of our first international fair.
---
About the Society for Science & the Public
Society for Science & the Public, established in 1921, is a nonprofit that promotes the understanding and appreciation of science and the vital role it plays in human advancement. Through its world-class competitions, including the Regeneron Science Talent Search, the Regeneron International Science and Engineering Fair, the Broadcom MASTERS and its award-winning magazine, Science News and Science News for Students, Society for Science & the Public is committed to inform, educate and inspire. Learn more at www.societyforscience.org.
About Regeneron
Regeneron is a leading biotechnology company that invents life-transforming medicines for people with serious diseases. Founded and led for 30 years by physician-scientists, Regeneron helps patients with eye diseases, allergic and inflammatory diseases, cancer, cardiovascular and metabolic diseases, infectious diseases, pain, and rare diseases.
Regeneron approaches corporate responsibility with three goals: to improve the lives of people with serious disease, to foster a culture of integrity and operational excellence and to build a sustainable future. Philanthropic commitments are in the area of science education, including the Regeneron Science Talent Search, and now, Regeneron ISEF.
External Resources:
ISEF 2020, Anaheim, California, May 10-15, 2020
https://www.societyforscience.org/isef/
https://www.societyforscience.org/isef/international-rules/
Society for Science & the Public
www.societyforscience.org
Regeneron
www.regeneron.com
Official press release:
https://www.societyforscience.org/press-release/society-for-science-the-public-announces-regeneron-as-new-title-sponsor-of-the-international-science-and-engineering-fair/