The Bay Area Science and Engineering Fair is a competition for all grade seven through twelve students from Hamilton, Halton Region, Haldimand County, Norfolk County,  County of Brant and Six Nations. Students may attend any public, separate or private school or be home schooled. Participants must be under the age of 21 before June of the BASEF year.
There is no entry fee but over $300,000 in cash, trips and scholarships are awarded ever year.
What happens at BASEF?
The science fair schedule is:
Thursday: project registration and set up on afternoon/evening,

Friday: student activities and judging, all day activities,

Tuesday: the awards ceremony, evening.
Top winners go on to compete at the International Science and Engineering Fair and the Canada-Wide Science Fair.
Where do I start?
Check out our Getting Started section for information on how to create a successful project and other resources.
Make sure you Register for BASEF on time – Check the Event Calendar for the start of Online Project Registration.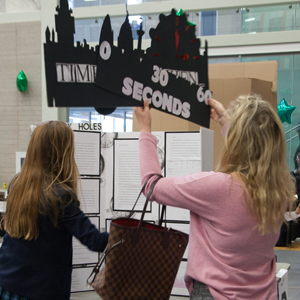 How can I help?
BASEF is a registered charity and relies entirely on volunteers and sponsors. We are always looking for volunteers and sponsors to help us make the science fair even better for students, parents and teachers.
Champion Teacher Recognition Awards
BASEF recognizes outstanding teacher support of students through the Champion Teacher Recognition Awards. If you know a teacher deserving special recognition for their work complete the nomination form when you register. Nominations must be submitted by the close of Registration.
Eligibility:
In the current BASEF year, eligible teachers must:
Be actively teaching in grades 7 through 12
Have at least one student participating in BASEF in the current BASEF year.
Not be related to a BASEF Committee member
NOTE: Teachers selected for this award are expected to attend the Award Ceremony at Mohawk College.
Selection Criteria:
Nominations are evaluated by the Champion Teacher Recognition Award Committee. The Committee is composed of members of the BASEF Organizing Committee.