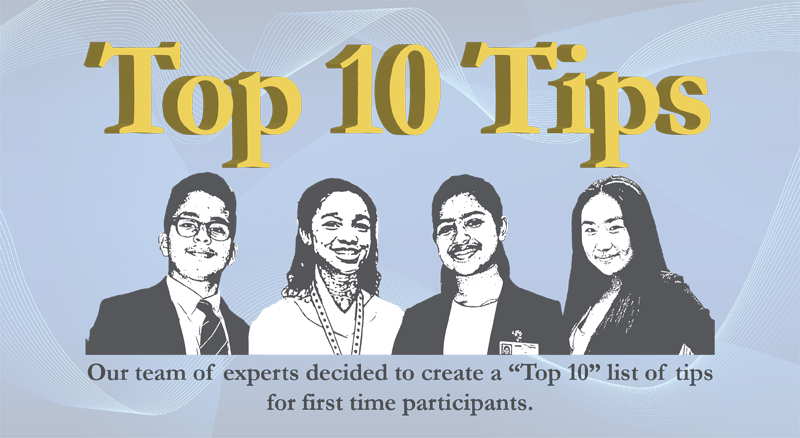 Top 10 Tips 2019
Meet our 2019 Student Advisors: Anika, Anne, Arielle and Karim. Together they won a dozen awards at last year's fair. So when they said "let's create a Winning Project Top 10 to-do list" we said hurry up. We need it now.
From Your Student Advisors–Top Ten Tips for Your BASEF 2019 Project
Make sure you have an abstract and a lab notebook so you can earn those easy points on the judging rubric!
Take some time beforehand to rehearse what you would like to say to judges during your interview. It definitely helps to know what you want to say!
Don't be afraid to talk about some areas of improvements by including "Next Steps". It shows that you've taken the time to be critical of your work.
Talk to judges in a calm and excited manner. Avoid sounding arrogant.
Plan what you're going to wear for judging the night before. Pro tip: looking neat and clean makes you presentable–and it's the best way to go. It should also be something you are comfortable wearing.
Make sure you get a good night's sleep. You don't want to be cranky in the morning or feel tired due to lack of sleep during judging.
Take some time to prepare your bag with essentials so you don't stress yourself out in the morning. Packing a water bottle, your lunch and some money (if you like!) is a really good idea to all have ready in advance.
Make sure you are able to get a good breakfast in the morning. While you get a chance to eat lunch after activity morning, you don't want to be hungry during that morning period.
Don't be scared by the thought of judging. It might take the first judge to get over your nerves but know that the judges are really interested in hearing what you have to say! Take the time you have with them to deepen your passion for your project.
Trust yourself and know that you have worked really hard. Now, it's time to have fun sharing your work!